Sendinblue is the smartest and most intuitive platform for growing businesses.

Thrive digitally as we guide your business with the right marketing & sales tools.
1. Sendinblue SPF Setup


To include the sendinblue mail servers in your SPF record, simply add this include statement to your SPF record at your domain's DNS host:


| | |
| --- | --- |
| For adding Sendinblue to existing SPF record | include:sendinblue.com |
2. Sendinblue DKIM Setup
Follow these steps to configure DKIM signing with Sendinblue:
In the Sendinblue interface;
Go to Campaigns > Settings
Click on Configure in the Your Senders box.
Click on Domain
Select Add a new domain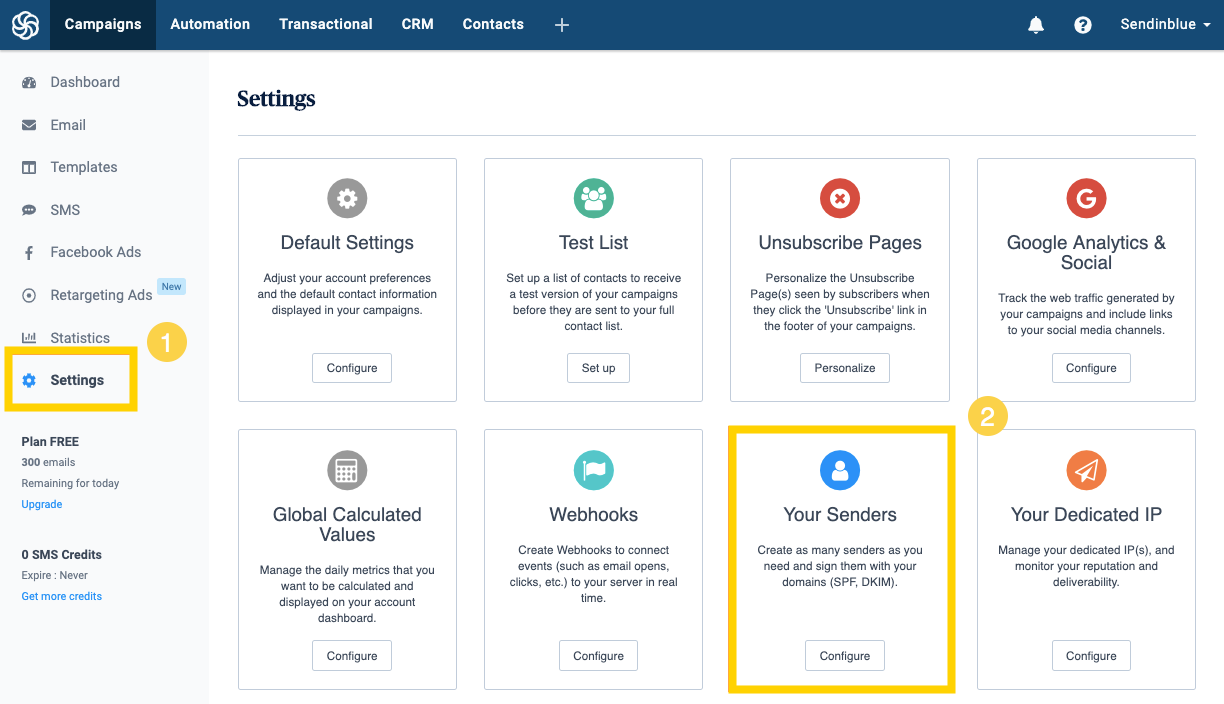 After clicking on Add a new Domain, the sender editing window will pop up and by default, your emails are signed by:
Sendinblue or;
the domain name associated with your dedicated IP address.
Customize your DKIM signature
Check the box: I would like to use this domain name to sign my emails.
Now enter the domain name you wish to use to sign your emails
When you click on the save button, a pop-up will appear with the DNS entries to be added to your domain host.
Once the configuration is complete, a green check will appear next to the DKIM, SPF, and Verify Code keys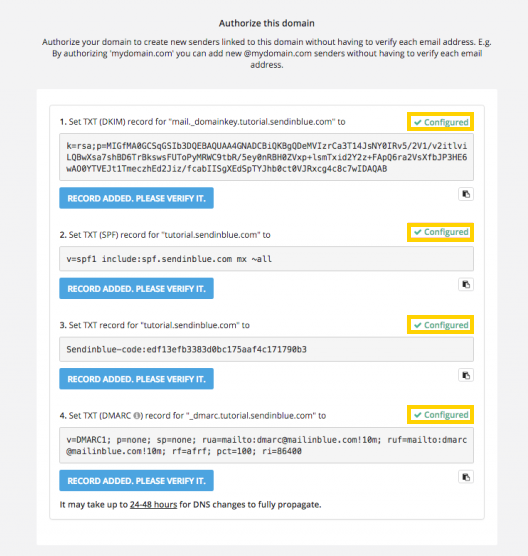 Click on DONE.
Finally, don't forget to update your senders. This can be done by clicking Manage > Edit > Save on any sender with the authenticated domain
Once you have completed the DNS Record setup please let us know in order to have the record confirmed and finalized.
* Please ensure that you change <yourdomain.com> to the correct domain before publishing changes.